W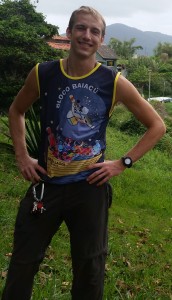 elcome to brofist.com.  I'm David C. Parkinson and I'll be your guide.  This is a blog about entrepreneurship, travel, and becoming a better man.  I've always wanted to get more into blogging but my perfectionism has always held me back.  It was about finding the right URL, the right message, or the right content.  No more excuses.  
My background (short) version :
Work: Founder @ Arooni Labs || Former Microsoft Program Manager  || BS Comp Sci UC San Diego || Founder @ Arooni Labs
Life (Short Version): Spent 4 years of my life riding my motorcycle 42K miles from Seattle to Ushuaia Argentina & up thru Brazil
Long Version: I am a "serial entrepreneur" from an early age who just hasn't hit it big yet — it's only a matter of time.  When I was 10, I started Dave's Snack Shop and sold extra chocolate bars my Mom sent me in Boy Scout Camp.  At 11, I started the Stinky Pinky Club, a networking marketing company, in 6th grade (members got a secret handshake, a membership card, and a $0.25 commission for referring new business).  When the 6th grade teachers shut me down for creating a supposed pyramid scheme, I took my business to a less regulated environment — the bus, selling Pogs retail that I bought in wholesale quantities from Wal-Mart.  In 7th grade, I started D&D Curb Painting with my Dad, where we painted house addresses on curbs for $10-15.  I built the business to earning several hundreds of dollars of revenue and employed (and had to later fire) three schoolmates. Then I learned about the web and I was hooked.  I won a $1,000 business grant from Kansas University and used the capital to start ChaseToys.com where I tried many products before I began wholesaling hundreds of thousands of cell phone accessories (antenna boosters and radiation blockers) leading to $20-30K in gross revenue in high school.  
After graduating with a BS in Computer Science at UCSD, I founded and built VibeSlide.com a replacement screensaver that let you send photos to your friends screensavers.  When VibeSlide failed, I went to work as a Program Manager at Microsoft for several years.  While at Microsoft, I built PhoneMyPhone (still up, helping thousands of people per month find their misplaced cell phones) and craigslistautoresponder.com (unfortuantely now defunct).  I quit Microsoft to focus on emptyspaceads, for which I raised $500K in venture funding and hired several employees.  When that company didn't work out, I took a 3.5 year sabbatical riding my motorcycle 42,000 miles through every country in Central America and South America except Venezuela, Suriname, and the Guianas.  I just got back in May of 2015.  
I'm back in the USA to build some new businesses which I'm very excited about.  Learn more at Arooni Labs.  Or just wait for me to write about them on my blog.  Please feel to get in touch socially below: